Timelines for teaching verb tenses are great. Seriously.
I've been telling teachers to use timelines for as long as I can remember, but, strangely enough, they've often played a lesser role in my own classroom practice. I believe this has a lot to do with my baffling inability to make sense of anything that bears the slightest resemblance to a map or a diagram.
Now, what do the poor students have to do with that? Nothing, of course.
So a few years ago, I decided that it was time to put away my fear of shapes and patterns and dust off my old, long-forgotten verb tense timelines. So I finally plucked up the courage to draw the four main narrative tenses on a piece of cardboard, stuck it on the wall, right next to the whiteboard and kept it there throughout the entire course. Whenever a student didn't know which verb tense to choose or made a mistake (in meaning, rather than form), I would point at the timelines.
In hindsight, I'm glad I did.
My highly heterogeneous group of Upper Intermediate students (B1+ish):
1. Grasped the differences between past, past progressive, past perfect and past perfect continuous surprisingly fast;
2. Did well in controlled practice;
3. Had more successful than unsuccessful attempts at spontaneous use.
I had taught this particular level many times before and the other students' performance was nowhere near as good. This may have happened due to a number of reasons, of course, but the use of timelines probably did help to a certain extent.
Here's an overview of the most commonly used timelines, taken from englishpage.com, the best place for timelines (and verb tenses!) on the whole world wide web: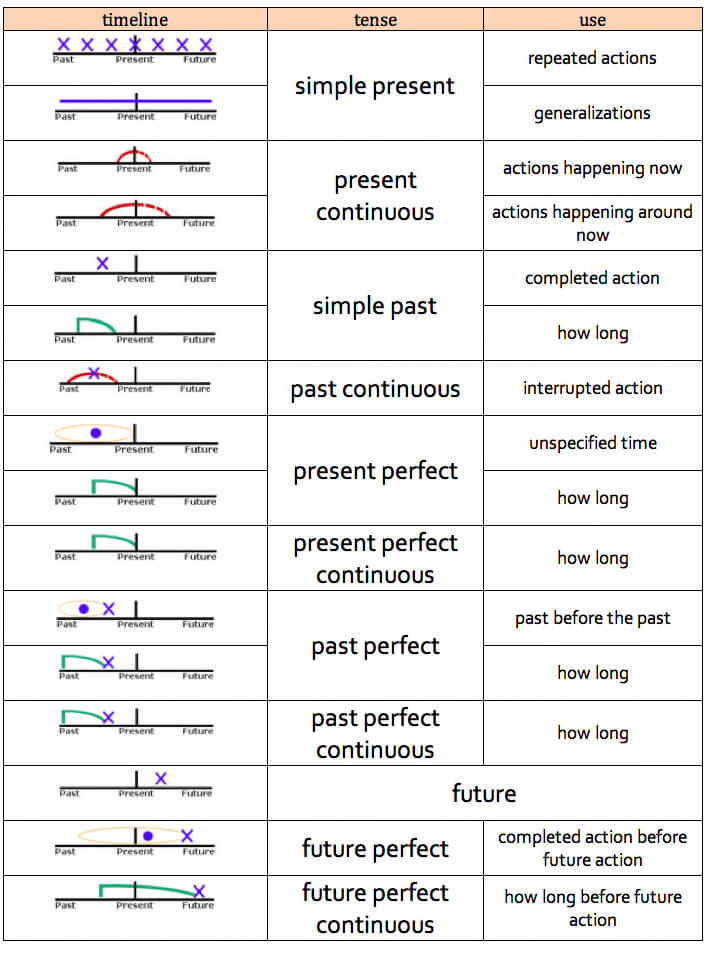 Thanks for reading. And, seriously, do give timelines a try.