Are turn-taking skills teachable? Yes, says ELT professional Inara Couto. Read on to find out more.
1. Introduction: Turn-taking across different cultures
Read the paragraph below. Which language (xxx) do you think is being described?
"Littlewood (1992: 29) affirms that "the basic expectation, at least for xxx speakers, is that there will always be one person (but only one person) speaking at a time." According to Cook overlap of turns occurs in only about 5 per cent of conversation or less, which, in his opinion, suggests that speakers somehow know exactly when and where to enter. For him, overlapping of turns is almost an emergency situation, "signaling annoyance, urgency, or a desire to correct what is being said." (1989:52)
Chances are that you chose English, and if you did, you are right.
English-speakers often have a hard time grasping the rules of turn-taking in Brazil, as illustrated by the well-known Schmidt and Frota study (1985, pp.242-3):
"The first department meeting was today… It started off well, and I actually got the gist of the first topic…No doubt I understood that much because it's all too familiar in my own work, and the chairperson had a clear diagram on the blackboard. However, after that topic was closed, I did not understand another word for the remainder of the meeting…The only observation I can report is that turn-taking rules for meetings in Brazil are different from those in the U.S. There was a great deal of overlap among participants, and the general atmosphere was a lot rowdier than what I'm used to."
University department meetings are held all over the world and one could expect they would only differ in the language being used. However, despite the similar setting and topics, it was soon evident to Professor Schmidt that a fundamental aspect of the interaction between the participants was unlike the patterns he would encounter in his home country: the turn-taking rules, with the overlapping which he perceived as contributing to a rowdier atmosphere. These could be particularly complex issues in turn-taking in English for Brazilian EFL students, due to what Van Lier (1988: 97) regards as "the constraint, or even stigma against interrupting", since L1 patterns merely transported to L2 conversations could easily be interpreted as rude or obnoxious behavior, giving rise to what Lewis (1993: 82) calls "fertile ground for international misunderstanding."
Turn-taking patterns are acquired by native speakers of English at a very early age. According to Nunan (1992: 163), "it is now widely believed that children learn interactional skills first, and then begin to master other aspects of the language. […] Children learn key aspects of interaction, such as turn-taking, gaining the floor, and negotiating meaning very early". These mechanisms, according to Cook (1989), "cannot simply be lifted from one society (and thus from one language via literal translation) to another.
2. Teaching implications
The question now arises of how the EFL classroom can provide opportunities for awareness raising and practice activities of L2 turn-taking patterns, since classroom turn-taking patterns have their own characteristics and idiosyncrasies. Van Lier (1984), in his analysis of interaction in the foreign language classroom, points out how it differs from the "real" world:
"Studies of classroom talk tend to suggest that the classroom is a world of its own, with its own rules and conventions, and that the language used there is not 'natural': that it is different from the language used outside, in 'real life'." (p.160)
Allwright (1980), found in his study of turn-taking in the language classroom that teachers have "a vastly disproportionate number of turns overall compared with the other participants. The teacher also does most of the interrupting, and is even among those guilty of turn-stealing"(i.e. "responding to a personal solicit made to another")." (cited in Nunan, 1989: 71-2)
The specific nature of classroom turn-taking rules poses a problem to the teaching of turn-taking skills. Seedhouse (1996) argues for the impossibility of genuine or natural conversation to be replicated in the classroom and arrives at a paradox. For a lesson to meet features of free conversation, such as a non-institutional setting or unrestricted turn-taking and participation rights, it "would therefore have to cease to be a lesson (…) and become a conversation which did not have any underlying pedagogical purpose…(which) might just as well take place in the coffee bar as in the classroom…"(p.18-9)
For the teaching of English turn-taking rules in the classroom to be viable, I felt the need for a way out of this paradox. The key was a concept which I found in Van Lier (1988 96-7): conversational turn-taking as a game, with its own rules for turns, such as chess, soccer or volleyball, rules that can be made clear to the learners in the EFL classroom, and internalized to a greater or lesser extent depending on each learner's ability, interest and need to play the game. In other words, although I could not clone the turn-taking patterns of genuine interaction for my classroom purposes, it was nevertheless perfectly possible to teach my students the rules of the turn-taking game, and to let them have a go at playing it, which might be compared to "learning to swim on dry ground" or "skiing on an artificial slope". (ibid, p.99).
3. Two practical examples
Here are two ideas for playing turn-taking games with intermediate + students:
A. Blurians and Purpurians
This activity helps raise students' awareness as to the existence of different turn-taking patterns in different cultures.
Procedures:
1. Half the students are Blurians, from Planet Blue and the other half are Purpurians, from Planet Purple. Give each group enough cards with the turn-taking rules on their planet so that everybody can read them.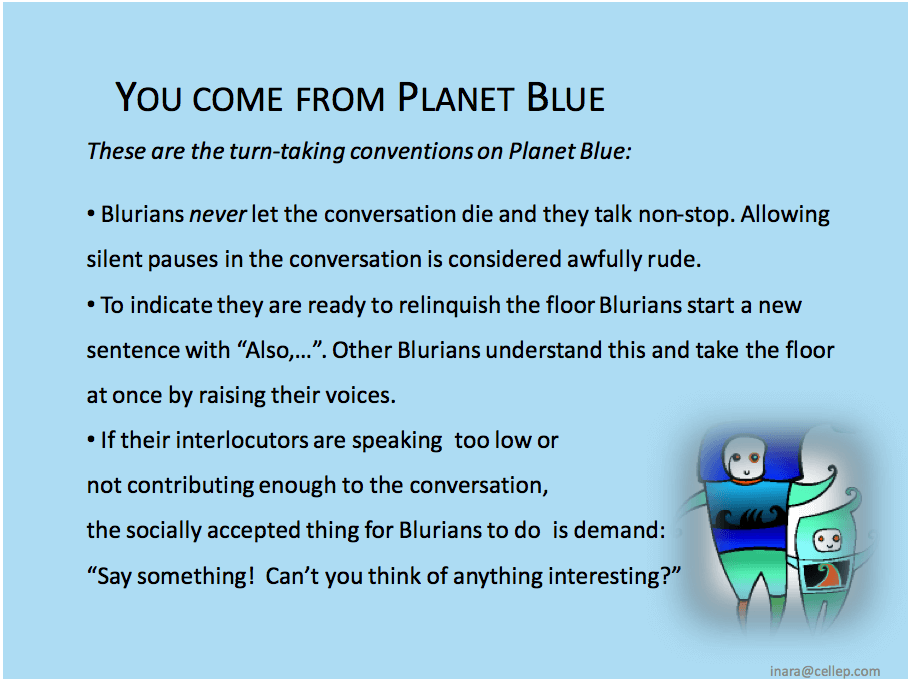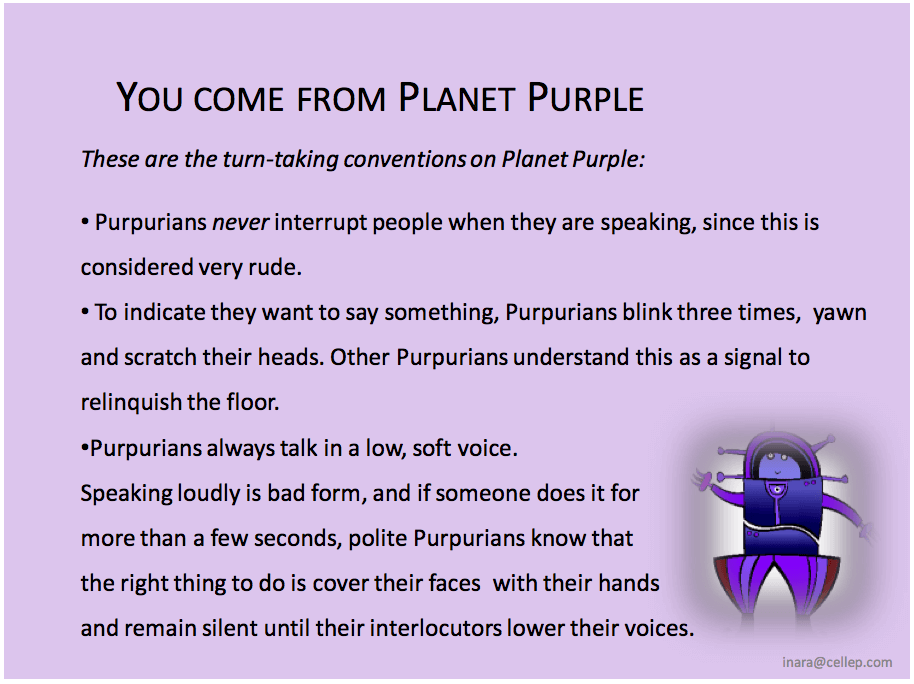 2. Ask them to practice the rules on their planet until they feel quite comfortable (you may give them a topic to discuss or ask them to choose what they want to talk about). Ideally the two groups would be in separate rooms, but they can simply to separate corners of the same room if needed.
3. After some practice time, pair each two Blurians with two Purpurians and let them engage in conversation, which will probably (hopefully) be perceived as quite awkward by the participants.
4. Bring the whole group together for their views on the activity, followed by a discussion on turn-taking patterns in Brazil and how they might be perceived by non-Brazilians.
B. Turn-taking road signs
This activity gives students language tools to help them use different turn-taking strategies in English. Procedures:
1. Give each group of four to six students six cards with road signs symbolizing six turn-taking strategies plus 6 cards with the language used for each strategy.






2. Ask students to match the cards with the corresponding language. Alternatively, ask them what they would do or say to perform each strategy before they match the cards.
These two activities are examples of ways in which you can help learners tackle the awkwardness of interacting in a foreign language – an awkwardness, which, according to Cook, does not seem wholly attributable to faulty or slow processing of grammar and vocabulary.  (1989, p.53)
Feel free to e-mail me at inara@cellep.com.
References:
Allwright, D. (1980) 'Turns, topics and tasks: Patterns of participation in language learning and teaching', in D. Larsen-Freeman (ed.) Discourse Analysis in Second Language Research, Newbury House.
Chaudron, C. (1988) Second Language Classrooms: Research on Teaching and Learning. Cambridge University Press.
Cook, G. (1989) Discourse. Oxford University Press.
Goodale, M. (1987) The Language of Meetings. Language Teaching Publications.
Jones, L. and C. von Baeyer. (1983) Functions of American English. Cambridge University Press.
Kehe, D. and P. D. Kehe,. (1994) Conversation Strategies. Pro Lingua Associates.
Keller, E. and S. T. Warner. (1988) Conversation Gambits. Language Teaching Publications.
Littlewood, W. (1992) Teaching Oral Communication. Blackwell.
Nunan, D. (1989) Understanding Language Classrooms. Prentice Hall.
_______(1992) Research Methods in Language Teaching. Cambridge University Press.
Schmidt, R. and S. Frota. (1985) "Developing basic conversational ability in a second language: a case study of an adult learner of Portuguese.' In R. Day (ed.), Talking to Learn. Newbury House.
Seedhouse, P. (1996) 'Classroom turn-taking: possibilities and impossibilities.' ELT Journal. Volume 50/1: 16-24
Solórzano, H. S. and J. P. L. Schmidt. (1998) NorthStar Intermediate – Focus on Listening and Speaking. Addison Wesley Longman.
Van Lier, L. (1984) 'Analyzing interactions in second language classrooms.' ELT Journal. Volume 38/9: 160 – 169
________ (1988) The Classroom and the Language Learner: turn-taking. Longman.